10/19 - Nintendo Wii - a 12 hour odyssey


6:45 – I woke up early to head over to my local target store to acquire the new Nintendo Wii for my girlfriend, Sandra. She had awoken before me as she was eagerly awaiting this new console as well. She is a huge old school Nintendo fan, so this system's ability to play all the original games is a huge appeal to her.


7:20 – We hopped on a bus over to the target to get the Wii. We were in no real hurry to get there. We just needed to be there by the time the store opened, which would be no prob.


7:50 – We arrived at target expecting a free for all. Under those odds I was pretty sure I'd get one.


7:52 – I found out I underestimated Targets competence. Either A) Their employees really just don't give a damn/don't know shit, or B) This Target here in Brooklyn made a last minute decision to pass out tickets for the Wii, like other retail and electronic stores. Unlike the other stores Target told no one in advance. Tickets were on a first come first serve basis and they passed them out promptly at 7:00am, 1 HOUR before they opened. The Tickets were all gone. Thanks Target!


7:54 – I wasn't knocked off my horse on getting a Wii, I knew there were plenty in the city (Manhattan). To my knowledge when big events like this happen the Toys R Us in Time SQ always has plenty of everything. If it were up to me that's where I would have gotten the Wii from, but that's before we ran into the "Girl in Red" …


7:56 - The Girl in Red was another very unhappy customer who was trying to get her Nintendo Wii without having to leave Brooklyn. She came from around the corner on blast to all Target employees. The "Girl in Red" put us on to the Nintendo store here in NY. Thanks Girl in Red!
8:00 – We hopped on the N Train headed to the Nintendo store. We didn't know exactly where it was, but we had a good idea thanks to the "Girl in Red", and we also knew Toys R Us was near by there as well.
8:50 – The train took quite awhile. When we came out in Times SQ we were right next to the Toys R Us. There was another special event going on there and the Toys R Us didn't open to the public until noon. So we moved on headed to the Nintendo store.


8:55- We passed by a Virgin Mega Store. It was opening in a few minutes so we waited to see if they had any systems available.


9:01 - They did not. They had a few games but that's it so we moved on.


9:05 - When we arrived in the area of the Nintendo store we knew we were in the right place by the huge line wrapping around a New York City block. I took some pics then we went straight to the back of the line.


9:06 - We met a very cool family behind us while we began to wait. There were two parents hoping to acquire a Wii for their son. Actually he was trying to acquire it himself, paying with his own money. Lil' man had money from his job and for eBay sales. Now that's what's up!


9:15 – It was cold! Sandra went off to get me a hat and gloves for our wait.


9:20 - There were Nintendo employees walking up and down the line, checking things out and counting.


9:25 – Feeling much warmer I was better pre paired for the long wait.


9:32 – Nintendo employees called for people with preorders to come to the front of the line. We moved up a little.


10:00 – I stepped out of line to take a walk and see how long the line was. It was really long. News crews were still out filming at the front of the line.


10:30 – Sandra stepped out of line for a walk. We moved up a little.


10:32 – Nintendo employees called for people with preorders to come to the front of the line. We moved up a little.


11:00 - They would warn us at times that they were unsure if everyone online would get one. We continued to wait.


11:30 – Sandra got us something to snack on while we waited. I continued to chat with the cool family behind us. We moved up a little.


11:47 – Sandra came back and we eat a bit. Nintendo employees called for people with preorders to come to the front of the line. We moved up a little.


12:00 – We weren't expecting to spend the day in line, but I knew it would be worth it, having played the system at work. Sandra was a little less convinced by now, never having played the system, but was still ready to stick it out.


12:35 – Nintendo employees called for people with preorders to come to the front of the line. We moved up a little.


1:05 - Two of the employees started to pass out Mario and Yoshi key chains, a scary omen…the consolation prize.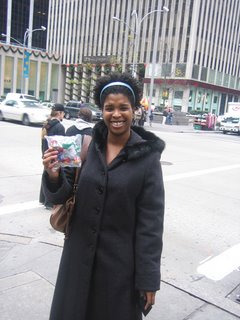 1:30 - Still online clinging to the knowledge that NYC was getting plenty of Wii's and that the Nintendo Store of all places in NYC would have the most, we stuck it out. We moved up a little.


2:00 – Sandra went across the street to eat and sit inside a warm spot for a bit. We moved up a little.


2:30 – I went across the street to eat and sit inside a warm spot for a bit. They moved up a little.


3:00 – Nintendo employees called for people with preorders to come to the front of the line. We moved up a little.


3:20 - We finally made it around to the storefront. By this time they had cut the line off well past us so we knew we were in the clear. YEA!


3:30 - The inside of the Store was awesome. It's interior was very cool. It had a clean and sleek setup. Cool gear, games and memorabilia, and plenty of consoles were hooked up to flat screen TV's for customers to play. Check out this pic of the inside. You can visit the site here.


3:32 - The store was closed for Wii purchases only, so there was no insanity at all. Everything was very orderly. They were splitting the line and serving people on the bottom and top floor. We were pointed to the stairs to the top floor.


3:45 – Still on the stairs going up.


4:00 – At the top of the stairs. I was excited cuz I though I was so close, but we learned the line wrapped around the whole top of the floor. Still a good wait left. Lil man was excited too.


4:15 - The big windows allowed us to look on the people still waiting in line onside behind us, as well as the new and on lookers. A friend from college was ahead of me. Sup Playa!


4:30 - It was one of anything per person, not household, so parents and kids were waking out with their own Wii's. Sandra bought an extra system to flip at a later time. (My man Mike got the pleasure of owning it.)
4:40 – We did it! The Wii was ours!


4:43 - Since I could only get one game and one extra controller, after our purchase we headed to Toys R Us to get some extra supplies.


4:50 - The setup at Toys R Us was a disaster. A DISASTER! It was awful, lol. They didn't shut down the game area to Wii customers only, so there were a tremendous amount of people their buying any and everything. There were big bins full of random crap. You literally had to reach in and hope to get lucky with what you come up with.


5:00 - After getting the supplies we waited in a line that did like three figure 8s back and forth though the store. It was dark and uncomfortable. I probably could have just picked up a Wii and put it in my Nintendo bag and walked out. It was that sloppy!


5:30 - We were both happy to get the hell out of there and head home.


6:15 - When we got home we were tired and glad to be back. We took the time to rest and chill for a bit.


7:00 - We hooked up the Wii and started playing. Man it's such a fun system! From Bowling to Tennis, the new Zelda to the Old Zelda (yea, we got both) it's hot to death!


Of course this will cut into my work time but it's well worth it. I was getting little use from my Xbox, and my PS2 is now my DVD player. I don't plan on getting a PS3 anytime soon if ever. I'll most likely get the Xbox 360, but probably not before I get my HDTV!
That's it for now. I've got to do some work so I can go play the Wii. Peace.